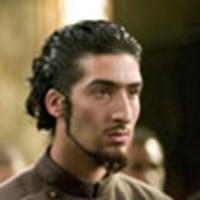 Tolga Safer
Krum audition lands actor new role in 'Goblet'
October 16, 2005 at 3:21 PM ET
Geri HPANA

harry potter and the goblet of fire, goblet of fire, tolga safer
---
Tolga Safer had the unique opportunity to appear in Harry Potter and the Goblet of Fire but not as the character he originally planned. After originally auditioning for the part of 'Viktor Krum' he was recalled for a second meeting with director Mike Newell and casting directors Mary Selway & Fiona Weir and offered the role of the aide to 'Professor Karkaroff,' a part not in the books.
You can read the full interview below:
How did you get started in the movie business?
Tolga: I've been acting since around the age of 7. I did school plays and enjoyed it so much begun taking classes at Sylvia Young Theatre School. My first main role was in a film called Culture Menace which was a British independent movie, a modern day take of Romeo & Juliet in which I play the Tybalt character renamed Timur, real streetwise, tough, nasty person. It was great. I signed with my agent Jeremy Brook in October 2003. I did a Pepsi commercial, played a bellboy in Ray Winstone's TV drama She's gone, played an epileptic art student named 'Wayne' in BBC's Casualty before working on Harry Potter 4.

Had you read the books before being asked to be in the movie?
Tolga: Yes. I was a big fan of the books and I had read them all before I was cast in the movie. The books are fantastic! I think J.K Rowling is an absolutely amazing and inspirational woman and has encouraged more and more kids and adults to read.

Which one is your favorite?
Tolga: Definitely Goblet of Fire. Before the movie was even in the pipeline GoF was by far my favourite. The characters are teenagers and growing up, there's a lot of action and new characters with the Tri-wizard tournament and Voldemort takes shape.

Can you tell us anything about your character? What is his purpose?
Tolga: As people know and point out Karkaroff does not have an aide/sidekick in the book however the part was created after I had a second meeting with Mike Newell and the casting directors Mary Selway and Fiona Weir. Mike Newell's view of the character was that he would have been a former student of Durmstrang and then became Prof. Karkaroff's second in command and assistant. He's kind of a "mini-me" to Karkaroff.

Can you tell us anything about what to expect in the film?
Tolga: Obviously I can't much away but this movie, like the Prisoner of Azkaban, moves up another level. The characters are getting older, feeling and experiencing things perhaps they never did before. It's getting darker and scarier (the graveyard set/scene is amazing). The thing I love about this movie is that Mike has managed to combine the themes of a dark thriller and a comedy.

What was the most enjoyable scene to do in the movie?
Tolga: All the scenes I worked on were great but if I had to pick only one I would have to pick the scene when Durmstrang and Beauxbatons arrive at Hogwarts and enter the great hall. Krum, Karkaroff and my character enter just after the Durmstrang boys have. It felt very powerful storming in and all the Hogwarts students snapping round and staring in amazement at us. The Yule Ball scenes were real fun to do too. Everyone is wearing their finest, dancing and having fun. We had dance rehearsals for this scene, which were hilarious. It was a bit of a tricky routine but within a couple of days we were all moving well to the music.

What can you tell us about working with Mike Newell, is his vision of the movie different from the other directors?
Tolga: Mike Newell is a great man and a great director. Mike directed one of my favourite movies, Donnie Brasco with Johnny Depp and Al Pacino, so I was a huge fan of his directing long before GoF. I think Mike's vision for GoF is much more British, combining a stronger thriller element with snaps of comedy where necessary.

Now that you've finished what are your plans?
Tolga: To keep acting. I've recently returned home to London from doing a play called Prayer Room at the Birmingham Rep Theatre and at the Edinburgh International Festival. I begin working on a British film called Me, my P and Lucy in November, which I am really looking forward to. So watch this space.

If asked, would you come back?
Tolga: In a second! I think it's highly unlikely Durmstrang and Beauxbatons will be making a comeback in either the books or movies, but definitely I would comeback. Working on Harry Potter is a dream job.

Did you see the other HP movies before you joined the cast?
Tolga: Yes. I had read and loved the books so as the movies came out, like millions of people, I rushed out to watch them too. To be a fan of a certain book or film and to then be actually in one, is a dream.

If you could be any character in the movie or book who would it be?
Tolga: I'd be Professor Snape (Alan Rickman). I think Snape is a great character. Snape is not a straightforward or simple character; apart from Dumbledore no one knows much about him. Is he good or bad? There is an air of mystery and darkness about him and his past, which I like.

Have you read the latest HP book, if so what did you think?
Tolga: I haven't read as much of it as I would have liked to. I'm about a third of the way through. As I've been all over the place lately I've had to snatch the odd chapter here and there but it's fantastic so far. J.K Rowling does it again.

Have you seen any of the trailers of the movie, if so what do you think?
Tolga: The trailers are fantastic. They give a great taster and teaser of the film without giving away too much. It's quite surreal watching the trailers having actually worked on the film and seeing them on the screen. If the trailers are this good imagine how amazing the full movie is going to be. I've never been so excited about a film. Roll on the premiere!

Do you have any advice for the young actors?
Tolga: Take classes; join an acting club or school. Act at every opportunity. I did growing up. People used to think I was crackers (mad). I'd act at home, in the classroom, everywhere. I'd get dressed up and do scenes from movies and TV. You can start at any age, young or old. If young, try and sign with a young persons acting agency, who will put you up for auditions and castings. It's important you have an agent, as it's your agent who sets up meetings, castings and auditions. Sometimes getting an agent can be hard but it's very important you don't give up. When you go for auditions/castings there can be 10s, hundreds and sometimes even thousands of people being seen for the same project. There will be times when you get knocked back but you have to be strong and keep going. Keep knocking on those doors until one opens. My motto is "If it's meant to be, it's meant to be." Remember acting isn't a chore so enjoy it and have fun.
You can read more about Tolga at his site here

& I have to say a big thank you to him for answering my questions.