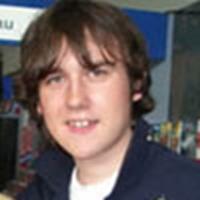 Matthew Lewis
Matt Lewis speaks about meeting Rowling & 'GoF'
October 16, 2005 at 10:35 AM ET
Geri HPANA (via Harry Potters Page)

matthew lewis, goblet of fire, harry potter and the goblet of fire
---
Matthew Lewis (Neville Longbottom) from the Harry Potter movies attended the Supanova Pop Culture Expo

in Sydney, Australia this weekend and in an interview described meeting JK Rowling and working on Goblet of Fire.
Question: What was it like working with Mike Newell and other cast members for Goblet of Fire?
Matt: It's almost un-describable; it was very, very cool. I know Mike Newell, he's a great director. I've seen Four Weddings and a Funeral, it's such a good film, and I've only seen it recently. Oh mate, it was so good, and when I first seen that, I was really looking forward to working with him. I know the other actors, likeAlan Rickman and MagieSmith, they've done so much good films like Robin Hood and Die Hard, someofmy favourite films, so to work with him and to be able to say you've worked with him; it's amazing.
You can read the full interview here

. Thanks to Dijares for the tip.