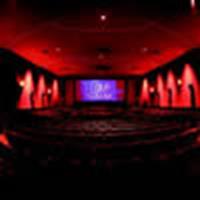 Ziegfeld Theatre
'Goblet of Fire' NYC premiere tickets for charity
October 13, 2005 at 10:48 AM ET
eudaemonia HPANA (via US Newswire)

goblet of fire, goblet of fire movie, movie 4
---
FilmAid International is putting up for auction

two tickets to the red-carpet premiere and afterparty

for the Harry Potter and the Goblet of Fire in New York City.
FilmAid International, a non-profit organization that uses the power of film to help inspire, educate and inform refugees in camps around the world; has launched an online auction at www.CharityFolks.com

in support of the organization's efforts around the globe, and most recently in the United States with the victims of Hurricane Katrina.
Bidders in FilmAid's online "Power of Film" auction will be faced with some tough decisions, like choosing between the chance to attend the Red Carpet World Premiers of Harry Potter and the Goblet of Fire, King Kong, X-Men 3 and RENT! Other incredible lots include the chance to meet Martha Stewart, a private lunch with award-winning actor, Brendan Fraser, a day on the of As the World Turns and the chance to see Cream's Reunion Concert in New York. Film Buffs won't be disappointed as the auction includes all access passes to the Tribeca Film Festival, Miami International Film Festival and the AFI Film Festival in Los Angeles.
Good luck to those who are able to bid

(make sure you read the terms and conditions).