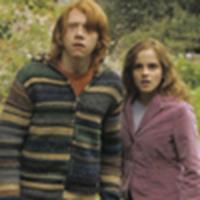 Ron & Hermione
First images of Gabrielle Delacour and a young Rita Skeeter
October 11, 2005 at 8:44 PM ET
Geri Veritaserum (via Snitch Seeker/Rupert-Grint.us)

harry potter and the goblet of fire movie, goblet of fire movie, movie 4
---
Some new pictures from another Harry Potter and the Goblet of Fire calendar of Gabrielle Delacour, a young Rita Skeeter during the Wizengamot trials, another one of Harry in the bath, a new Ron and Hermione and many more have appeared online.
You can go here

to view the pictures.
Thanks to Tao from Rupert-Grint.us

, a Rupert fansite titled Ice Cream Man for letting us know that he was the one who scanned in all the new calendar images.