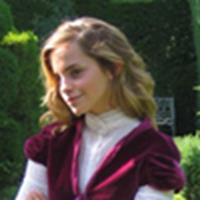 Emma Watson
New photos of Emma in 'Teen Vogue'
October 11, 2005 at 8:25 PM ET
Geri Veritaserum (via News Tip)

emma watson
---
New photos of Harry Potter star Emma Watson have appeared

in the November issue of Teen Vogue. According to the short article Emma is the youngest cover girl to be featured.
According to one caption:
FINDERS KEEPERS
Emma loved the clothes for her cover shoot so much that she asked if she could raid Teen Vogue's fashion closet for the New York premiere of Harry Potter and the Goblet of Fire.
Thanks to Rassele for the tip.