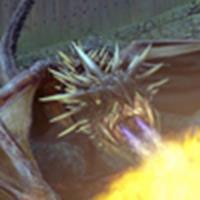 Hungarian Horntail dragon
Update: Heyman talks about first task and Fiennes
October 11, 2005 at 7:57 AM ET
Geri HPANA (via Empire Online)

harry potter and the goblet of fire movie, goblet of fire movie, movie 4, david heyman
---
In a meeting to discuss the new Harry Potter and the Goblet of Fire video game, producer David Heyman revealed that the first task in the film has been made even more nerve-wracking than in the book.
According to Heyman

:
It's one of the most powerful and dramatic scenes. We've departed from the book a little bit in the sense that the drago breaks free ofthe chain that ties him and it leads to a dramatic chase through Hogwarts.
Let's just say it doesn't necessarily meet the happiest of ends.
UPDATE: In the same interview David told

Empire that actor Ralph Fiennes "is such a gamer himself. A major, major gamer, he loves games." David also commented that Fiennes did all of Voldemort's voiceovers for the new video game.