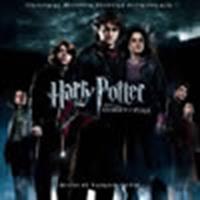 'Goblet of Fire' soundtrack
Update: 'GoF' soundtrack cover, summary released
October 12, 2005 at 3:12 PM ET
eudaemonia HPANA (via News Tip)

goblet of fire, harry potter and the goblet of fire, movie 4, patrick doyle
---
AOL has our first look of the "Harry Potter and the Goblet of Fire" original movie soundtrack cover, which is the same as the theatrical poster, on display at their online shop. You can go to the following links view the soundtrack cover:
Thanks to Yann of Univers Fantastiques for the tip!
UPDATE 2: Amazon has updated their listing with not only a cover image, but also a brief album description

:
[The album] features a score by Academy Award-nominated composer Patrick Doyle and three songs written by modern rocker Jarvis Cocker, and performed by Cocker, Jonny Greenwood, Phil Selway, Steve Claydon and Jason Buckle-with all these musicians also appearing in the movie.