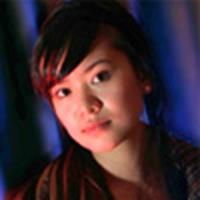 Katie Leung
New Katie Leung interview
October 8, 2005 at 8:37 PM ET
Geri HPANA (via Scotland on Sunday)

harry potter and the goblet of fire, goblet of fire, movie 4, katie leung
---
In a new interview

with Katie Leung, Cho Chang from Harry Potter and the Goblet of Fire, Katie gives her thoughts on the movie, describes Mike Newell distracting her during the audition and whose opinion she values the most.
Katie on Goblet of Fire:
Harry is developing into a teenager and so there's all that hormonal stuff going on. Everyone's been asking me if I'm Harry's girlfriend; I'm not, I'm his crush. Cho already has a boyfriend and Harry can't go anywhere near me. So it's all just looking and teasing.