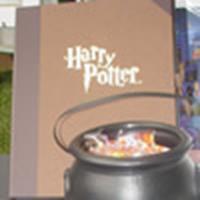 GrandPré illustration porfolio
Update: GrandPré 'Potter' illustrations at book fair
October 2, 2005 at 10:32 PM ET
eudaemonia HPANA (via Business Wire)

mary grandpré, mary grandpre, illustrations, book, book fair
---
The City of West Hollywood will be displaying Harry Potter illustrations by Mary GrandPré this coming Sunday, October 2nd during their 4th Annual Book Fair:
To be showcased throughout the day are newly-released "Harry Potter" fine art giclee prints by the (Scholastic) Harry Potter book series illustrator Mary GrandPré. The newly-released Harry Potter images are currently not displayed anywhere else in the Los Angeles area and will offer a unique opportunity for Harry Potter fans to view the work up close.
The fair is free and will take place at the West Hollywood Park from 10:00am to 7:00pm. Visit the Book Fair website

for more information.
Update: Though they might not be new to some, here are some images of the giclee prints that were showcased during today's book fair, taken by digicam and scanned from the free postcard for visitors:
The size of each print is 11" x 14" except for Sirius & Buckbeak's escape and Quidditch prints which also come in 21 ½" x 26". The prices range from $150 to $200+ except for the flying keys print, which is a free print for purchasing the combined-print portfolio. These limited edition (only 250 made) fine art giclee prints are each hand-signed by Ms. GrandPré and hand-numbered for authenticity.
Giclee prints are not just ordinary poster prints -- they are so high in resolution and detail, they would be the closest thing to the actual pastel originals one would be able to obtain. Thanks to the kind folks at Clampett Studio (Michelle & David) for showcasing them today. For those who want to get their hands on one, visit their site

for additional information.