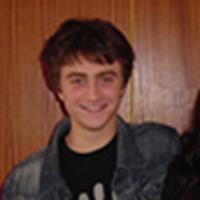 Daniel Radcliffe
Dan on doing 'OotP' and much more
September 29, 2005 at 8:19 PM ET
Geri HPANA (via DanRadcliffe.co.uk)

daniel radcliffe, mike newell, harry potter and the goblet of fire, goblet of fire, harry potter and the order of the phoenix, order of the phoenix
---
In a new interview

with Harry Potter star Daniel Radcliffe by fan site DanRadcliffe.co.uk, Dan discusses playing Harry, what he's looking forward to filming in Order of the Phoenix (yes he is returning), his thoughts on the last book, Goblet of Fire filming, Mike Newell, driving and so much more. The interview also includes a new picture of Dan.
Part of the Q&A:
DR.co.uk: Based on having read the book then, are you looking forward to filming any scenes in Order of the Phoenix? You've sort of openly admitted that you're going to be back for that film, even though it hasn't really officially been announced yet.
Dan: No, I mean I'm going to do the fifth one definitely, which scene, I'm looking forward to all the scenes with Neville, because they are I think very sort of sweet and very important really because, you know, obviously in the fifth, we learn about the connection between Harry and Neville, and I just think it's a very important part and also because the guy who plays Neville, Matt Lewis, is just so fantastic. I'm really looking forward to doing some big acting scenes with him, because now we've not got a chance to do sort of any really substantial big scenes together which would be really good. I'm also looking forward to all the stuff with Sirius and the final scene with Dumbledore as well are the ones I'm sort of really looking forward to.
DR.co.uk: You're fast approaching driving age, have you taken any driving lessons yet, or learned to drive? Got any plans for a car soon?
Dan: I just want to get a normal car that gets me from one place to the other, because I don't know if I'll be safe behind the wheel of a fast car, and also because my dad tends to be the worst driver in the world! And he actually now doesn't drive at all so hopefully it will balance out. I'll be an okay driver, because my dad's the worst driver, and my mom is a fantastic driver, so hopefully I'll be somewhere in the middle, but I'm a bit nervous about it. I mean, you have to also, you have to learn how to drive, because if you get it wrong, and you can't drive a car, then it becomes a problem, I don't know how I'm going to do, but I'll let you know.
You can read the whole transcript as well as listen to the interview here

.
UPDATE: If you are having trouble accessing DR.co.uk to read the transcript of the interview, you can read it here

. Please be patient, you will have a chance to hear Dan's responses once traffic dies down.