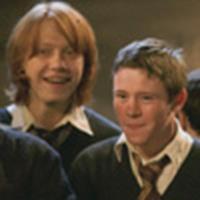 Ron & Seamus
Update: New 'Goblet of Fire' calendar images
September 28, 2005 at 3:05 PM ET
Geri MuggleNet (via EmmaWatson.net)

harry potter and the goblet of fire calendar, goblet of fire calendar, harry potter calendar
---
Some new images from a German Harry Potter and the Goblet of Fire calendar have emerged on the EmmaWatson.net

forums. Enjoy.
You can view all the Goblet of Fire calendar images here

or below:
UPDATE: Thanks to MuggleNet

we've added the following images:
2nd UPDATE: Additional (though smaller) images can be seen at StarKalender

where German-literate fans can purchase this calendar online. The online store displays the cover and all of the months in which the above images were taken from. Thanks to L'Univers for the tip!