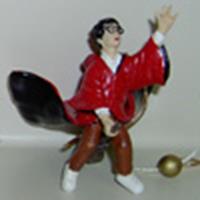 Harry figurine
Harry Potter Christmas ornaments
September 25, 2005 at 12:23 AM ET
Geri HPANA

harry potter ornaments, harry potter christmas ornaments
---
With Christmas just around the corner, Target, a store in the U.S. is selling some Harry Potter figurines. We have images of Harry, Hermione and the Hogwarts Express.
Prices range from $17.99 for the tabletop figurines, $5.99 for the miniature figurines and $6.99 for the Hogwarts Express.
Group figurines: miniatures

& figurines

Thanks to Padme for the pictures.