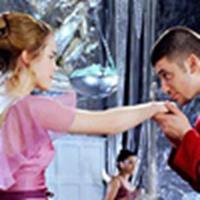 Krum & Hermione
New 'GoF' images
September 13, 2005 at 9:38 PM ET
Geri Yahoo! News (via USA Today)

harry potter and the goblet of fire, harry potter goblet of fire, harry potter goblet of fire movie, goblet of fire movie
---
Three new pictures from Harry Potter and the Goblet of Fire have appeared in USA Today.
The new pictures show Krum and Hermione during the Yule ball, Harry being chased by a dragon and our first look at Madame Maxime with Prof. Snape; Professor McGonagall; Headmaster Dumbledore and Prof. "Mad-Eye" Moody. There is also a new picture of Harry.
There is also a quote from producer David Heyman in which he says the movie is "... probably not for 4-year-olds."
You can view the new pictures here

& here

. We hope to have larger and higher-resolution ones shortly.