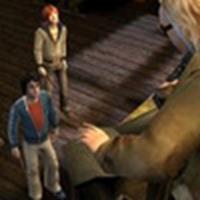 'GoF' video game
'GoF' video game news
September 2, 2005 at 9:55 AM ET
Geri HPANA (via Various)

harry potter and the goblet of fire movie, goblet of fire movie, goblet of fire video game, harry potter and the goblet of fire video game
---
GameSpot.com has recently played the new Harry Potter game and gives a review here

. The review explains that players will be able to play the game cooperatively and that they had worked with the film's production design to create a Hogwarts and a Tri-Wizard Tournament that "are both highly evocative of the forthcoming movie." You can also view some screen shorts of the game.
You can view a video of the new Harry Potter and the Goblet of Fire video game here

. The video shows Harry being chased around Hogwarts by the Hungarian Horntail and gives us our first look at the Second Task.
Also Nintendo Power magazine has an article on the new game in which they interview the game developers, have a small set report from the Goblet of Fire and two new images of Hermione and Ron from the movie. You can see scans of the article here

.
The video game is now available for pre-ordering from Amazon. It will be released

in the UK on October 28th and a week later

in the U.S. on November 8th.
Thanks to MuggleNet

and Veritaserum

for those stories.