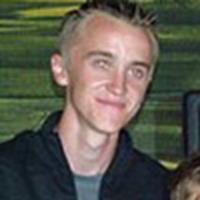 Tom Felton
Felton speaks about fishing and 'Harry Potter'
August 25, 2005 at 8:14 AM ET
Geri HPANA (via World Junior Carp Tournament)

harry potter and the goblet of fire, goblet of fire, tom felton
---
We reported last week that Harry Potter actor Tom Felton would be attending this year's Junior Carp Tournament on the St. Lawrence River. The official site has now been updated

to include pictures of Tom and his brother Chris, who helped with co-hosting the event.
There is also a video interview with Tom and in the second part of the interview he discusses Goblet of Fire and when asked if he will continue in the role of Draco Malfoy he said:
I'll keep doing it as long as they want me to. I'm not overly fussed, it's not my 100 per cent chosen life career. If they do decide to get a new cast, it's OK, fair enough, on to bigger and better things, but as long as they want me to do it I'm more than happy to portray the role.
You can see the pictures here

and the video interviews here

.