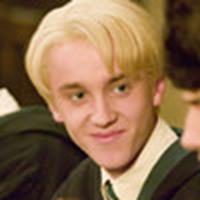 Draco Malfoy
New 'Goblet of Fire' pics including first of Draco
August 17, 2005 at 2:41 PM ET
Cheeser HPANA (via Potter-Mania.com)

harry potter and the goblet of fire, goblet of fire, brendan gleeson, josh herdman, rupert grint, stanislav ianevski, tom felton
---
We have our first look at Draco Malfoy (Tom Felton) from Harry Potter and the Goblet of Fire thanks to Bulgarian fan site Potter-Mania.com.
It features Gregory Goyle (Josh Herdman), Draco and Viktor Krum (Stanislav Yanevski) sitting at the Slytherin table in the Great Hall of Hogwarts. Draco's appearance remains pretty much unchanged from his dramatic makeover in Prisoner of Azkaban.
Another new still from the film shows Ron Weasley (Rupert Grint) and Mad-Eye Moody (Brendan Gleeson) squaring off:
Thanks to Warner Bros. for sending us the high-resolution copies above (with thanks to Andrey for the original tip).