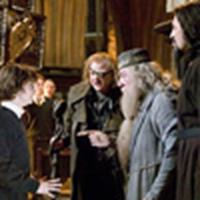 'Goblet of Fire'
'Goblet of Fire' in fall preview from 'Entertainment Weekly'
August 12, 2005 at 1:19 AM ET
Geri The Leaky Cauldron (via Entertainment Weekly)

harry potter and the goblet of fire, goblet of fire
---
Today's issue of Entertainment Weekly contains their fall movie preview which includes a brief piece on Harry Potter and the Goblet of Fire as well as a new picture of Harry, Moody, Dumbledore and Karkaroff

(courtesy DanRadcliffe.com

). The article

also touches on the reasons why there is only one movie instead of two, to the dismay of fans. It also quotes director Mike Newell, Michael Gambon and producer David Heyman.
David Heyman explains why Goblet is only one movie and how Alfonso Cuarón helped with that decision:
He taught us you could really depart from the book in many ways. Alfonso always felt the ideas in Fire could only support one movie. The studio agreed.
The picture shows Harry, Mad-Eye Moody, Prof. Dumbledore, Karkaroff with Crouch, Cedric and Fleur in the background.
This week's issue of EW is on newsstands today.