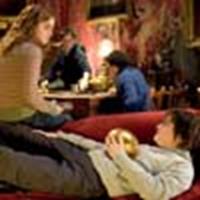 Harry & Hermione
'Goblet of Fire' article and hi-res picture
August 3, 2005 at 10:53 AM ET
Geri MuggleNet (via Premiere Magazine)

harry potter and the goblet of fire, goblet of fire, mike newell, ralph fiennes, miranda richardson
---
In the September issue of Premiere magazine a new image as well as a small snippet appears from Harry Potter and the Goblet of Fire. The image shows Hermione talking to Harry in the Gryffindor common room and the article has some quotes from Mike Newell, Ralph Fiennes and Miranda Richardson.
According to the article director, Mike Newell, wanted Ralph Fiennes to have a human face while playing Lord Voldemort:
I really want him to have Ralph Fiennes's face and do it by his personality. Let him act a titantically ban human being, but be something that is recognizable.
Fiennes believed he did his job well by the reaction of children who visited the set:
When they were introduced to Lord V. they looked suitable terrified. Which gave me great gratification.
Goblet of Fire is scheduled for release on November 18th.
UPDATE: Thanks to Warner Bros. we have the hi-res picture

of Harry and Hermione.