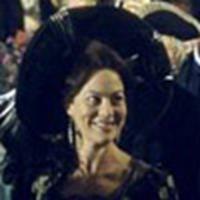 Helen McCrory
Has Bellatrix Lestrange been cast for 'OotP'?
August 1, 2005 at 9:44 PM ET
Geri Wizard News (via The Mirror)

harry potter and the order of the phoenix, order of the phoenix
---
Tabloid British paper, The Mirror, is reporting that Helen McCrory

, has signed on to play Bellatrix Lestrange in Harry Potter and the Order of the Phoenix. Ms. McCrory recently appeared in Charlotte Gray, and The Count of Monte Cristo.
According to the article

:
The producers are trying to keep the cast a secret until it's all sealed. But they are really keen on Helen. They think she has the gravitas and looks to pull off the part of Bellatrix.
The article also reports that Daniel Radcliffe, Rupert Grint and Emma Watson are signed on again in to play Harry, Ron and Hermione.
We are trying to confirm this report with Warner Bros. and as soon as we hear anything we will let you know.