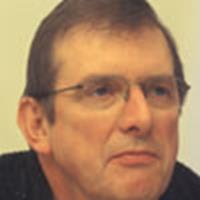 Mike Newell
Mike Newell briefly describes Voldemort in 'Goblet of Fire'
July 18, 2005 at 9:34 PM ET
Geri HPANA (via TIME)

harry potter and the goblet of fire, goblet of fire, mike newell
---
After several British directors were approached for the fourth film installment in the Harry Potter franchise Mike Newell

was chosen to bring the 'sort of classic thriller' to the screen. Newell on what Voldemort should look like: "The image we have is of a 2-hour-old chick which somebody dropped into a pan of boiling water and whipped out."
Newell prepared

directing for the film by "obsessively watching the great paranoid thrillers like Three Days of the Condor and All the President's Men.
Book No. 4 seemed to me to have terrific potential. It's very, very dark and sort of a classic thriller. First, if Harry is, in films 1 to 3, a hero, he's an accidental hero. He's somebody who simply finds himself in the eye of the storm each time. I thought Goblet was actually about Harry becoming Harry.
Thanks to Page from DanRadcliffe.co.uk

for the tip.