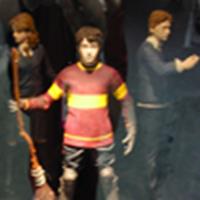 'Goblet of Fire' movie display
Image of 'Goblet of Fire' movie display at Comic-Con
July 13, 2005 at 10:31 PM ET
Geri ComingSoon.net

harry potter and the goblet of fire, goblet of fire
---
This year's 2005 Comic-Con

is taking place this weekend in San Diego and included on their schedule is a preview from Warner Bros. of Harry Potter and the Goblet of Fire on Friday. One image has surfaced of the Goblet of Fire movie display showing Harry with his broom and Ron and Hermione with their wands.
According to the schedule

:
Harry Potter and the Goblet of Fire: In the fourth film adaptation of J. K. Rowling's popular Harry Potter novel series, Harry (Daniel Radcliffe) must contend with being mysteriously selected to compete in the prestigious Triwizard Tournament, a thrilling international competition that pits him against older and more experienced students from Hogwarts and two rival European wizarding schools. Get an exclusive look at this pivotal adventure in Harry Potter's life.
You can view the image here

.