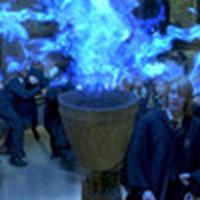 Harry Potter and the Goblet of Fire
'GoF' screening scheduled for Chicago this Saturday
July 7, 2005 at 11:45 AM ET
Geri Veritaserum (via Bad Taste)

harry potter and the goblet of fire, goblet of fire
---
According to a report on Bad Taste, the first screening

of Harry Potter and the Goblet of Fire is scheduled to take place in Chicago, IL this Saturday (July 9th). It may be possible for the general public to get tickets to the event & I suggest (if you can) you place a few calls to the local AMC theaters to see if that is possible.
Babel Fish translation of the article:
The post-production is still in course, in particular as far as the special effects, and the assembly will not be that definitive one... But some watching lucky people will be able to assist to one special projection of Harry Potter and the Goblet of Fire this Saturday, that is between 48 hours.
The test screening is a practical one accustoms them of the production houses, than they use it as a system in order "sondare the land" and to assess that the public appreciates the relative choices to the scenario, the recitazione and the assembly of the film. The spectators receive a module to compile with their impressions, and before the projection a responsible of the production house perceives that the film still is not completed, and that not there will be definitive the sonorous column neither the special effects. Insomma, one "crude" version of the film, a work in progress sure still imperfect, but perhaps just for this still more moving! And for we, than we are not therefore fortunate from being able to assist to the projection?
It is expectable that in the immediately successive hours to the screening some book reviews appear on Internet, probably rich of spoiler! We of Bad Taste will hold to you we inform to you...
We have asked for confirmation on this story but I'm not sure if we will hear anything, secrecy and all that. If you have a chance to see the movie please let us know and if we see any reports of the screening online we will be sure to bring them to you.