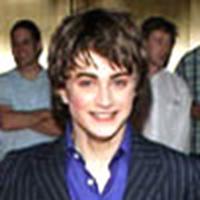 Daniel Radcliffe
Radcliffe to appear in new film
June 15, 2005 at 7:51 AM ET
Geri CBBC Newsround

daniel radcliffe
---
According to many news reports this morning Harry Potter star Daniel Radcliffe

has signed to star

in December Boys, a story about four orphans who vie for adoption in Australia.
The movie is based on the novel by Michael Noonan, the film will be directed by Rod Hardy

, whose credits include such TV shows as Battlestar Galactica and Touching Evil. Production for the movie is scheduled to start in Australia in November after the release of Goblet of Fire.
Producer Richard Becker, who will produce the film had this to say

about Daniel:
Daniel is an actor with talent and intelligence beyond his years. He can step into any role and deliver a brilliant performance.
UPDATE: Thanks to Page at DanRadcliffe.co.uk

for letting us know that Dan's representative has confirmed his participation in the film. DanRadcliffe.com has some additional information

about the movie.