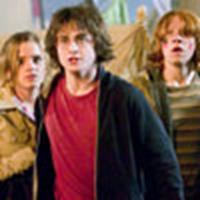 Hermione, Harry and Ron
New 'Goblet of Fire' picture features QWC campsite
June 3, 2005 at 4:02 PM ET
Cheeser HPANA (via Warner Bros.)

harry potter and the goblet of fire, harry potter goblet of fire movie
---
Warner Bros. has sent us a great new hi-res image from Harry Potter and the Goblet of Fire that features the terrific trio at the Quidditch World Cup campsite. The photo also includes Mr. Weasley, the twins and Ginny in the background.
Thanks to German fan site Harry Potter Xperts

for originally alerting us.