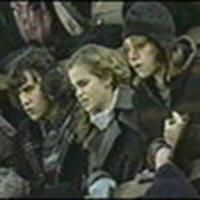 Neville, Hermione & Ron
Behind-the-scenes footage from 'Fire'
May 4, 2005 at 9:36 AM ET
Geri CBBC Newsround

harry potter and the goblet of fire, goblet of fire, daniel radcliffe, emma watson, rupert grint
---
CBBC Newsround has gotten some behind-the-scene footage

from Harry Potter and the Goblet of Fire. The clips feature interviews with the three main stars, Daniel Radcliffe, Emma Watson and Rupert Grint. The clips also show some filming of the Tri-Wizard Tournament and chaos at the Quidditch Word Cup.
Dan talks

about what he likes about Harry:
He's pathetic at the whole romance thing. He's a character for anyone who's ever been awkward with a girl.
Hermione on her

character:
Hermione's more of a mother figure for Harry, and spends most of her time worrying about him. She kind of has a boyfriend in this film, which for Ron and Harry is a bit of a shock. Especially for Ron, who has only just realised she's a girl.
Rupert on the action scenes

in this film:
The tournament is wicked - really dangerous and exciting.
You can check out some additional pictures here

which show Ron, Harry and Hermione at the Yule Ball, Harry and Ron in class and more. Enjoy.
UPDATE: DanRadcliffe.com has posted screencaps of the video, which can bee seen here

.