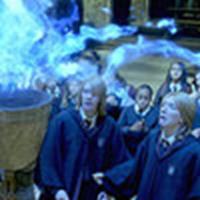 Weasley twins
USA Today's first look at 'Goblet of Fire'
May 3, 2005 at 11:16 PM ET
Geri HPANA (via USAToday)

harry potter and the goblet of fire, goblet of fire, dan radcliffe, daniel radcliffe
---
In two separate articles in Wednesday's edition of USA Today Daniel Radcliffe confirms that he will be appearing in Harry Potter and the Order of the Phoenix, the other article discusses the next movie Harry Potter and the Goblet of Fire and includes a new picture of the Weasley twins.
From the article

discussing Goblet of Fire:
The physical requirements were much tougher this time. Goblet is more of an action thriller than the previous three because it centers on an elaborate physical contest, the Tri-Wizard Tournament.
According to Mike Newell:
In the first three films, their characters were defined by what they were up against: a werewolf, a basilisk, a dementor. But this time, the story is how they're developing as people. So the school's Yule Ball is a torture to Harry and Ron because they have to ask girls out, and they don't know how.
Dan will be coming back

for Order of the Phoenix:
Daniel Radcliffe, the 15-year-old who plays Potter, has said he will definitely be back as Harry in the fifth movie, Harry Potter and the Order of the Phoenix, which starts filming next year.
Please note that there have been no official announcements from Warner Bros. about the casting for the fifth movie, we are currently trying to confirm this news and as soon as we hear anything we will let you know.
As a side note, it would seem that USA Today in their cover tidbit

about their article printed that the Goblet of Fire would be opening on Nov. 19 - we of course know this is incorrect.
UPDATE: Veritaseurm has posted some scans of the article and can be seen here

.