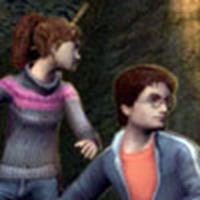 Virtual Harry & Hermione
'Goblet of Fire' videogame set for release in November
April 12, 2005 at 8:57 AM ET
Geri Yahoo! News (via Business Wire)

electronic arts, harry potter and the goblet of fire, goblet of fire, goblet of fire videogame, harry potter and the goblet of fire videogame
---
Electronic Arts

and Warner Bros. Interactive Entertainment announced

this morning that the Harry Potter and the Goblet of Fire videogame, will have a November 2005 release, as well as having virtual characters that look like the movie's actors, a first in the franchise.
Harry, Ron, and Hermione are all playable characters, modeled after their big-screen counterparts. In this game, an all-new spell-casting system allows players to feel the magic for the first time as the controller shakes and reacts with every flick of the wand. Players can also team up with friends in co-operative play to combine their magic and produce more powerful spells than ever before!
Jason Hall, Senior Vice President for Warner Bros. Interactive Entertainment said:
Working with EA, we look forward to offering players a highly developed Harry Potter game with Harry Potter and the Goblet of Fire. The game will possess the extremely creative aspects of the Harry Potter world captured in both the film and the book, giving fans a complete interactive experience.
The game will be available on all formats including PlayStation, Xbox and Nintendo GameCube.
UPDATE: IGN.com has the first images

of the game and an interview

with game producer Justin Manning in which he discusses how:
The fans of Harry Potter identify with the characters from the film, and we hope they feel even more connected with the Goblet of Fire videogame this year with the inclusion of the film character likenesse.
UPDATE II: Amazon.com now has the game

available for pre-ordering at a cost of $29.99 - $49.99. The game will be available November 15. Gamefaqs.com is reporting

that the game will go on sale on November 1.