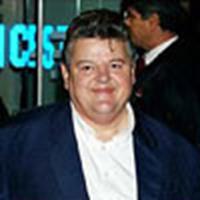 Robbie Coltrane
No Hagrid for 'Order of the Phoenix'?
April 6, 2005 at 9:59 PM ET
Geri Wizard News (via The Herald, UK)

robbie coltrane, harry potter and the order of the phoenix, order of the phoenix
---
In a recent interview

to discuss his current rehearsing of Peter McDougall's The Brother's Suit

, Robbie Coltrane hinted that he might not reprise his role as Hagrid in Harry Potter and the Order of the Phoenix.
When asked if he would be returning as Hagrid, Robbie had this to say:
It's open to negotiations . . . I know the answer and it's 'I don't know'. That's that.
In the rest of the interview Coltrane talks about Goblet of Fire, stating that the plot was very complicated, his enjoyment of being on stage and hopefully working with the new National Theatre of Scotland.
As of now it is still too early to hear who will or will not be appearing in the next Harry Potter movie, so until confirmed by Warner Bros. please treat this as a rumor.