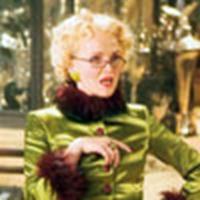 Rita Skeeter
New 'Goblet of Fire' pictures, sneak peek
March 26, 2005 at 10:19 AM ET
Geri The Leaky Cauldron (via Poudlard.org)

harry potter and the goblet of fire pictures, goblet of fire pictures, clémence poésy, daniel radcliffe, emma watson, michael gambon, miranda richardson, rupert grint
---
UPDATE: Super high-quality versions now available!
French Potter site Poudlard.org has posted some photos from the April issue of the French Premiere magazine. The photos are from Harry Potter and the Goblet of Fire and feature some never-before-seen images of Harry, Ron, Hermione, Rita Skeeter, Fleur and Dumbledore.
Thanks to TLC for the translation of a little snippet from the magazine:
The article has a set report visit to Leavesden studios, and that the costume designer Jany Termine is among those interviewed. Maelle writes that in terms of the characters clothing "Rita Skeeter is of course an executive woman of the eighties (one of her jacket has a dragon-tail). Draco is very smart, Prada-like. The Beauxbatons girls are subtly sexy, wearing thirties clothing."
UPDATE: We've added the translation

of the article accompanying the new pictures courtesy of Page at DanRadcliffe.co.uk

.