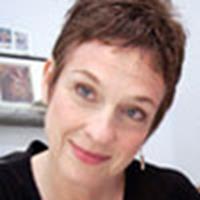 Mary GrandPré
'Harry Potter' illustrator discusses process
March 8, 2005 at 9:17 AM ET
Geri Yahoo! News (via AP)

mary grandpre, harry potter books, harry potter
---
With the release of the cover for the American version of Harry Potter and the Half-Blood Prince illustrator Mary GrandPré discusses

her process for creating her sketches, different ideas for the cover and chapter art: "I go through a lot of tracing paper. I re-draw and re-draw."
According to GrandPré:
It's like a candy store for an illustrator. I connected with Harry pretty quickly and loved the way J.K. described everything; she's such a visually thinking person. You can't pass that up.
I get to show the reader the essence of the book without giving anything away. I kind of tempt the reader to keep moving on through the book.
Mary also mentions that she doesn't discuss anything with Rowling and has only met her once. Scholastic will show Rowling the images as they were being created, but the two never collaborated.
Click here for video and a picture of GrandPré at her studio.