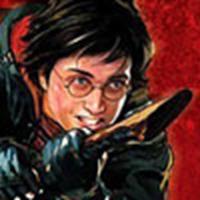 Harry on broomstick
First look at 2006 'Goblet of Fire' calendars
January 22, 2005 at 4:03 PM ET
Geri The Leaky Cauldron

harry potter and the goblet of fire, goblet of fire, stanislav ianevski
---
Scans from the 2006 Harry Potter and the Goblet of Fire calendars have been posted online by Andrews McMeel Publishing and HP fan sites.
Some of the images show Stanislav Ianevski as Viktor Krum, Harry in the prefects' bathroom with the golden egg, the mermaids, the Dark Mark as well as some illustrations of the cover showing Harry in his attire for the Yule Ball.
Update: At the request of Warner Bros. we have removed some of the pictures originally found here. We apologize for the inconvenience, but we're sure they'll be releasing real, full-sized versions of some of the photos we got a sneak peek at soon, and we'll be sure to bring them to you!
The remaining pictures are images of the calendars' covers as shown on Amazon.com:
In the meantime, you can pre-order the calendars now, which go on sale in November:
(Thanks to The Leaky Cauldron

for the original tip-offs.)