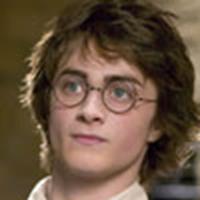 Harry Potter
New 'Goblet of Fire' stills feature Harry, Hermione and Rita
January 12, 2005 at 8:49 PM ET
Cheeser HPANA (via Warner Bros.)

harry potter and the goblet of fire, daniel radcliffe, emma watson, miranda richardson, rita skeeter
---
Warner Bros. has kindly provided us with a brand-new image of Daniel Radcliffe as Harry Potter from the upcoming Harry Potter and the Goblet of Fire film. A clean hi-res version of a previously seen photo featuring reporter Rita Skeeter, Harry and Hermione (Emma Watson) was also made available:
Super-large ones are here (be careful, they're big!):
The picture of Harry alone appeared recently on the cover of Disney Adventure magazine, and the one featuring Rita Skeeter was originally printed in the December issue of Premiere. The first two official production stills from the film were released in December.
Enjoy and many thanks to WB!