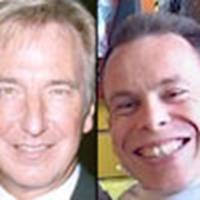 Rickman and Davis
Alan Rickman and Warwick Davis hitch ride on 'Guide'
January 6, 2005 at 11:13 PM ET
Cheeser HPANA (via Planet Magrathea)

hitchhiker's guide to the galaxy, alan rickman, marvin, warwick davis,
---
Harry Potter stars Alan Rickman (Severus Snape) and Warwick Davis (Professor Flitwick) are apparently lending their respective talents to the film adaptation of Douglas Adams' Hitchhiker's Guide to the Galaxy, according to Planet Magrathea

, a web site run by Adams' official biographer MJ Simpson.

Director Garth Jennings reportedly told BBC Radio 1 just a few days ago that Rickman was to be the voice of Marvin the Android. Davis was confirmed earlier as the actor who will operate Marvin's robotic costume.

In the books, Marvin is a paranoid, terribly sarcastic character who is woefully unconcerned with the world around him. Rickman's casting has not been officially confirmed or announced (we'll keep you posted).

Thanks to Kate for the tip.