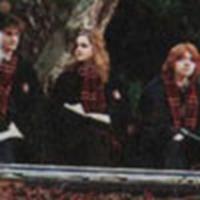 GoF set photo
Harry Potter's 'Goblet of Fire' filming 75% complete
December 15, 2004 at 6:52 PM ET
Rhyan DanRadcliffe.com

harry potter and the goblet of fire, goblet of fire
---
DanRadcliffe.com

received a scan from the German magazine Bravo today and in the accompanying article it is reported that filming for Harry Potter and the Goblet of Fire is 75% complete.
"We just had the 120th day of shooting from 160 planned," said executive producer David Heyman. "The underwater scenes were tricky... constantly three divers were swimming around Dan to provide him with oxygen. But as soon as the cameras were rolling he had to hold his breath - sometimes for nearly two minutes!"
View the scan

that contains two new (small) photos from the set.
UPDATE: DanRadcliffe.com has posted

bigger versions of the pictures from this article as well as a new one.