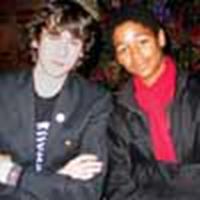 Matthew Lewis & Alfie Enoch
Additional report from 'Prisoner' DVD launch
December 4, 2004 at 3:10 PM ET
Geri The Leaky Cauldron

harry potter and the prisoner of azkaban, prisoner of azkaban dvd, matthew lewis, alfie enoch
---
The Leaky Cauldron has posted an additional report from the Harry Potter and the Prisoner of Azkaban DVD launch that took place in London a few weeks ago. In this report

, Melissa, speaks to Matthew Lewis (Neville Longbottom) & Alfie Enoch (Dean Thomas) about upcoming filming, school and their characters. They also have a brief interaction with David Thewlis (Prof. Lupin) who discusses his wish to appear in Harry Potter and the Order of the Phoenix.
Some snippets from the report

:
TLC: What have you filmed so far?
Matthew: What have we done, Alfie?
Alfie: Quite a lot – we've done a lot of Great Hall scenes.
Matthew: I'm not sure how much we're allowed to give away because they got quite tight this year. I'm not even sure we're allowed to say exactly what we shot.
TLC: Well, I know you're dancing.
Matthew: Yeah
Alfie: Yeah
Matthew: I got a tango, yeah.

TLC: Have you ever tangoed before?
Matthew: I have not, and I was quite proud of it, up until they –
Alfie: Until they changed the moves.
Matthew: and now …
TLC: How are you as a tango artist?
Matthew: I don't think very good at all.
Alfie: You should go into dance.
Matthew: Uhhhhh...no. Personally I don't think I'm very good. I'm sure Alfie's excellent though.
Alfie: Why would you say that?
Matthew: It's because the tango's gotta be a public school thing, I think.
Alfie: Oh, no, let's not do this again.