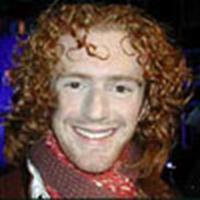 Chris Rankin
Rankin gets the axe from 'Goblet'
November 22, 2004 at 5:39 PM ET
Jessica Lares MuggleNet (via BBC Norfolk)

harry potter and the goblet of fire, goblet of fire, chris rankin
---
In September Chris Rankin, Percy in the Harry Potter movies posted

on his site that he didn't think that he would be appearing in Harry Potter and the Goblet of Fire which is currently being filmed. Now he has confirmed

with BBC Norfolk that he will not be in the movie and that "they've taken the decision to leave Percy in the dressing room for this film."
Chris had this to say about being cut from the movie:
Because Percy has always been a minor principal and his storyline doesn't generally affect the main three characters, they've taken the decision to leave Percy in the dressing room for this film.

They don't finish filming until next March, so anything could happen – but from what I'm gathering, and that I haven't seen a script or a shooting schedule, Percy won't be around for GoF.
Vanessa Andreis, head of Harry Potter production publicity said:
With the length of the books, it's impossible to include all of the elements and characters within the length of the film, so editorial choices have to be made.

Elements that the film makers feel aren't vital to moving the story forward are the ones that won't necessarily be included, but that doesn't mean to say that these much loved characters, like Percy, won't be seen again in future films.