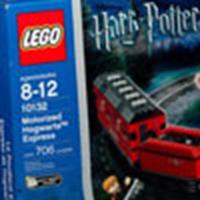 LEGO® Hogwarts Express
Hogwarts Express train top toy
November 10, 2004 at 10:33 PM ET
Cheeser Yahoo! News (via Canada Toy Testing Council)

lego hogwarts express, hogwarts express train, harry potter toys
---
The Canadian Toy Testing Council has released

their list of top toys and best bets for the holiday season, and among them is LEGO's Hogwarts Express motorized train

, suggested for 8- to 12-year-olds.
"Winners reflect the best toys (and books) in a number of play areas – the 'best of balanced play' – from creative construction, to exciting electronics, through to the inspired and the unique," says executive directory Leigh A. Poirier.
"We are the oldest independent toy evaluation organization in Canada, with the most intensive testing program. From the beginning, the Canadian Toy Testing Council has done the leg-work for the consumer. The hundreds of toys we test each year are evaluated and played with by Canadian children in actual home environments," says Ms. Poirier. Over 1,000 kids, ages three months to sixteen years, test toys for the Council on an ongoing basis.
[Ed. note: Don't forget that you can ride the real Hogwarts Express train next summer with HP Fan Trips

.]