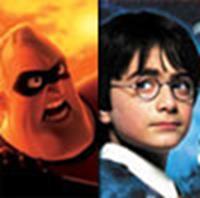 Incredibles vs. Potter
Pixar's 'Incredible' opening can't beat 'Potter'
November 7, 2004 at 5:08 PM ET
Cheeser Yahoo! News (via Reuters)

the incredibles, pixar debut, the incredibles opening weekend, harry potter and the sorcerer's stone
---
Pixar's latest film The Incredibles raked in over $70 million in U.S. theaters over the weekend, barely besting the company's 2003 debut of Finding Nemo, according to Reuters

.
The three-day weekend total was the best ever for a film released by Disney, and Saturday's $29.4 million was the highest single-day tally for Disney. Incredibles is the sixth release from Pixar Animation Studios Inc.

and The Walt Disney Co.

and all have been hits. Pixar makes them; Disney distributes them.
One record it couldn't break, however, was the best November 3-day weekend opening ever, which belongs squarely to Harry Potter and the Sorcerer's Stone with over $90 million in 2001.