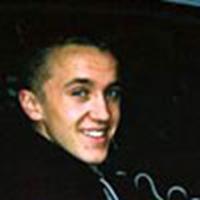 Tom Felton
Tom Felton updates site with fishy story
October 20, 2004 at 1:03 PM ET
Geri HPANA (via TomFelton.com)

tom felton
---
Tom Felton (Draco Malfoy) from the Harry Potter movies has updated

his web site today, mentioning his most recent carp fishing trip to the U.S., his traveling experience, as well as thanking all his fans for birthday gifts they sent: "Anyway on to nicer things. THANK YOU SO MUCH to everyone who sent me cards and presents on my birthday."
From his most recent entry:
"Had a bummer journey back. Our British Airways night flight got cancelled and they stuck us on a Air Canada one but we didn't get our luggage for 2 days! I hate night flying and the food is always disgusting. Can't believe how rude some air hostesses can be - one in particular was awful to me on the way out - just coz I was a kid seemed to give her the right to be so rude. I bet she wouldn't have been so rude if I'd been some fancy businessman in a suit."
Read the rest of the entry on his site

.