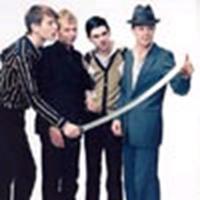 Franz Ferdinand
Franz Ferdinand to play Weird Sisters in 'Goblet of Fire'?
October 13, 2004 at 7:19 AM ET
Geri HPANA (via MTV.com)

harry potter and the goblet of fire casting, harry potter and the goblet of fire
---
According to MTV.com Scottish band Franz Ferdinand have been approached

by Warner Bros. to write some music for Harry Potter and the Goblet of Fire and may even appear as the characters the Weird Sisters: "There's a section where there's a band of ugly sisters playing and I think, well ... some members of Franz Ferdinand may be the ugly sisters in the band."
Even though the project is still being negotiated, lead singer Alex Kapranos said:
"There's an excitement and innocence about those films. I like how there's good and evil, and that's a clarity which is quite refreshing."
Of course it would be nice if Alex actually knew the name of the band that appears in the film and stopped referring to them as the ugly sisters. If this happens Franz Ferdinand

will follow in the footsteps of Ian Brown who appeared recently in Harry Potter and the Prisoner of Azkaban.