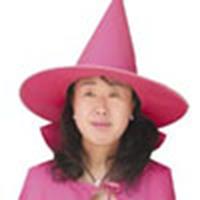 Yuko Matsuoka, Japanese translator
Interview with Japanese translator of Harry Potter
September 26, 2004 at 6:14 PM ET
Geri Wizard News (via Metropolis, Tokyo)

---
Japan Today has an interview

with Yuko Matsuoka, the Japanese translator of the Harry Potter books. Ms. Matsuoka describes the process involved in the translating, meeting JK Rowling (before she became famous) and on not letting the movies affect her translations.
Ms. Matsuoka on translating the books:
"It usually takes me about a year after the English version comes out to do the Japanese translation. Bookstores and wholesalers always pressure me, but I won't compromise quality. As a publisher, I used to be able to get an advance copy; now I have to wait until the launch to read the English version."
Ms Matsuoka doesn't let the movies affect her version of the translation:
"A two-hour movie is too short to cover the whole story anyway. After five books, I already have a strong image of the characters in my mind," she says. Warner Bros. does, however, ask her to check the movies' subtitles and dubbed versions so the image created in the book is reflected in the movies.
Scroll down the page to read the whole interview.