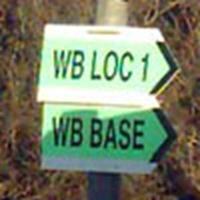 WB Signs
Eastbourne WB filming photos
September 16, 2004 at 11:01 PM ET
Cheeser HPANA (via Tip)

harry potter and the goblet of fire movie, harry potter 4, harry potter movie
---
Thanks to faye, we have hard evidence of Warner Bros.' filming in Eastbourne UK

, which finished today.
None of the stars were present, as the crew was shooting backdrops. It's not clear what scene or scenes in Harry Potter and the Goblet of Fire the imagery will be used for:
Signs to the shooting location


Getting ready to film


Local news van watches


The helicopter with attached camera


Action!


Surrounding area


Beautiful landscape


Cliffs at the southern end of Eastbourne

Thanks again to faye for taking the time to snap and send these photos. While they're obviously not excitingly enthralling, it's good to see continued progress on the film.