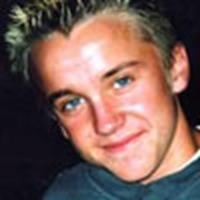 Tom Felton
Moody actor 'such a nice person' says Felton
September 5, 2004 at 2:27 PM ET
Cheeser Veritaserum (via Tom Felton)

tom felton, brenden gleeson, harry potter and the goblet of fire
---
Tom Felton, the Harry Potter actor who portrays snooty classmate Draco Malfoy, has answered several questions on his official site

about working on the films, including comments on Goblet of Fire co-star Brenden Gleeson (Mad-Eye Moody):
I don't have any control over my hair colour - it's the director's decision as to style - nothing to do with me!
Did I know Emma [Watson], Daniel [Radcliffe] and Rupert [Grint] before Harry Potter? Answer is no and I'm not going out with Emma.
I am nothing like my character, which is a question lots of fans ask...
What would I do instead of acting? Answer is [be] a professional fisherman. [Ed.: Felton has stated this before, many times.]
My favourite actors I have worked with are: Brendon Gleeson, who is such a nice person, [and] Kenneth Branagh (Professor Lockhart in Chamber of Secrets, who is a brilliant actor.
Favourite actor in another film I have done has to be CHOW YUN FAT, who played the king in the Anna and the King (he taught me how to sword fight with real swords!).
Favourite female actress I have worked with is Julie Walters (Molly Weasley).
Favourite actors who I haven't worked with are Anthony Hopkins and Brad Pitt.
Felton also said he's doing a new photo shoot for his fan club and talks about plans for another meet-and-greet autograph session.