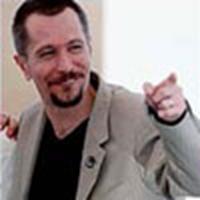 Gary Oldman
Gary Oldman won't break with SAG to voice Star Wars 3
September 2, 2004 at 6:57 PM ET
Cheeser The Leaky Cauldron (via Gary Oldman)

screen actors guild, sag, gary oldman, star wars episode iii, star wars episode 3, star wars 3
---
Fans who had hoped to hear Harry Potter actor Gary Oldman in Star Wars Episode III will be disappointed to learn that Oldman won't be in the George Lucas film after all.
Previously it had been reported

that the actor was in talks to do voice work in the movie, but Oldman's management

has stated that he won't break with the Screen Actors Guild and work illegally overseas for Lucas:
Gary Oldman's voice will NOT be heard in the upcoming STAR WARS film. Gary was offered, and agreed to perform in the film, in fact he was excited and looking forward to the work. The snag that made it impossible however is that this film is being made as a non-SAG (Screen Actor's Guild) film. George Lucas and gang agreed to hire Gary Oldman if he in fact would become a union buster, and perform work illegally overseas. As a resident of America, and also a member of SAG, out of respect and solidarity with the other members, he could not and would not consider violating his union's rules.
The Screen Actors Guild

is a union that seeks to ensure proper compensation, benefits and working conditions for actors in movies, television and commercials. Its "Global Rule One", introduced in 2002, expands the union's reach internationally, as more and more productions leave the United States. The rule forbids SAG members to work on non-SAG films.