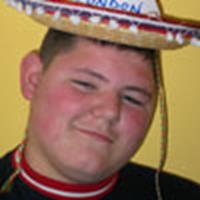 Jamie Waylett
Waylett returns from Oxford 'Goblet' filming
August 30, 2004 at 6:37 PM ET
Cheeser HPANA (via Jamie Waylett)

jamie waylett, harry potter and the goblet of fire filming in oxford, the amazing bouncing ferret
---
Jamie Waylett, the actor who plays Vincent Crabbe in the Harry Potter films, updated his online diary with some brief details about recent filming

for Goblet of Fire in Oxford:
I spent nearly the whole week filming just one scene, with Maggie Smith, Brendan Gleeson, Tom [Felton], Josh [Herdman] and Dan [Radcliffe]. It was great fun, I really enjoyed it.
As you will know, I'm not allowed to say too much about the filming, but I think that scene could turn out to be one of the funniest in all of the movies!
One can safely conjecture that this is the passage in the book where Mad-Eye Moody (Brendan Gleeson) turns Draco Malfoy into a ferret. A recent report of ferrets being filmed for the movie seems to offer further credence.
Thanks to HarryLatino.com

for the tip! That site was also able to ask Waylett a few exclusive questions and has sent us the English translations:
HarryLatino: How is filming with Mike Newell? What are the differences between the directors?
Jamie: All three directors have had very different styles, but all have been good to work with, they all knew we were children and they have helped us improve with their experience of filming.
Are you enjoying the filming?
Filming is usually fun, tutoring is OK, it's the waiting to go on set that can be very boring.
Which is your relationship with the other staff?
All the cast and crew get on very well, it's like a big family, we are all pleased to meet each other at the studio and talk about what we have done since we last met.
Have you spoken with J.K. Rowling?
I have only met J.K. Rowling twice, she gave me a big hug and told me I was just as she imagined Crabbe when she was writing her books.
Jamie was recently in Spain on holiday. "I had a great time in Salou," he told HarryLatino. "I have been on holiday to Spain three times and really enjoyed each time, the people were so friendly and the food was good."