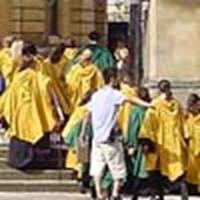 Students on the way to filming
Oxford set report from 'Goblet of Fire'
August 26, 2004 at 2:53 PM ET
Geri CBBC Newsround

harry potter and the goblet of fire report, harry potter and the goblet of fire
---
CBBC Newsround recently found out that filming for Harry Potter and the Goblet of Fire was taking place at Oxford University in the UK and decided to see what was happening.
Some of their report

:
A man carrying a long, dark coat - the costume for Mad Eye Moody - went in, followed by a car with Dame Maggie Smith who plays Professor McGonagall, in it. This was definitely the place to be to see some action!
The doors to the college opened and I could see a courtyard inside. Some kids dressed in black Hogwarts robes were walking around inside, including Malfoy's pals Crabbe and Goyle.
Then about 50 kids dressed in raincoats to cover their robes came out in rows of two - as if they were actually in school - and marched up to the Bodleian Library where they disappeared inside.
View some pictures HERE

.