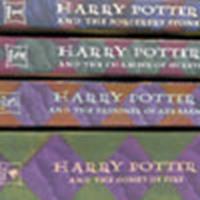 Collection of HP paperbacks
'Expecto Paperback-um' spell cast by Scholastic
August 13, 2004 at 2:30 PM ET
Cheeser HPANA

expecto paperback-um, harry potter paperback, harry potter and the order of the phoenix paper back
---
Scholastic, the U.S. publisher of JK Rowling's "Harry Potter" books, unveiled a $1 million marketing blitz to usher in the paperback version of "Harry Potter and the Order of the Phoenix" on August 10.
We've got a sneak peek of one of the new ads:
Expecto Paperback-um!

The ad reads: "Five Years. Five Books. Five Adventures. All five now in paperback."
Scholastic's magazines, with a combined circulation of 2 million, will promote the paperback with ads carrying the message.