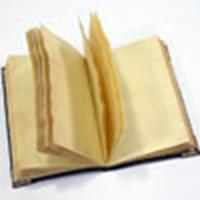 Riddle's diary
Voldemort's childhood diaries fetch $4,000 on eBay
August 3, 2004 at 6:01 PM ET
Cheeser BBC

---
Two of Tom Riddle's prop diaries used in Harry Potter and the Chamber of Secrets have sold on eBay in a private auction for over $4,000 combined.
An "Original Tom Marvolo Riddle Diary"

received an opening bid of $1,700 but went to the winner (and second bidder) for $2,125. A "special effects" edition

, which featured tubes that squirt black ink through the cover, was purchased for $1,900 using eBay's Buy it Now feature, which caused the auction to close early.
The two books were used during various filming of the second Potter movie in 2002.