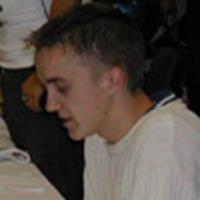 Tom Felton
Report from Tom Felton's first fan club meeting
July 18, 2004 at 1:58 PM ET
Geri HPANA (via CBBC Newsround/Mugglenet)

tom felton fan club, tom felton
---
Tom Felton

(Draco) from the Harry Potter movies had his first fan club meeting at London's Chelsea Football Club yesterday and CBBC Newsround has a report

as well as some pictures

from the event.
Tom had invited a selection of fans by letter/phone and his website

to come and meet him in person and had this to say about the turnout:
"I am really happy with the turnout. You can tell how much some people really want to be here, because they can't speak!"
Also dawniky's has a LiveJournal report & pictures

posted about her experience. Thanks to Mugglenet

for the tip.
Update: Tom has updated his website with pictures

and an entry

about the day's events.