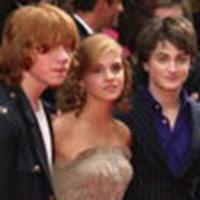 Rupert, Emma & Daniel
Potter trio may be replaced for future movies
May 25, 2004 at 7:22 PM ET
Geri HPANA (via The New York Post)

---
The New York Post

is reporting that Harry Potter producer David Heyman has said that Daniel Radcliffe (Harry), Emma Watson (Hermione) and Rupert Grint (Ron) may be replaced at some point in the future due to the fact that they are aging before their characters.
According to the article:
"There will come a point when one, two, or all three of them will move on. I don't know when that will be - with the fifth, sixth or seventh movies - but it's inevitable."
But Alfonso Cuarón believes

that they can see the popular series through to the end.
"It would be amazing to have the whole series with the same kids. It would be priceless. It would be something very special, for the ages. So far, they're holding up very good, the way that they are aging. I don't think Dan is going to get way much taller or suddenly grow another eye. Same with Emma, and Rupert is OK. Let's hope. In the last one they're supposed to be 17. Say they're 19, I think they're going to be very good. That would be very special."
He also stated that he would love to direct another installment in the Potter series.
Since all are currently filming Harry Potter and the Goblet of Fire any talk about additional movies is premature and any comments flying around the web are purely rumors.